Benefits for Your Employees
As a business owner or leader, you understand that employee retention keeps costs low. Adding services to your employee benefits package is a great tool for keeping employees engaged. Telhio's Workplace Banking program offers free benefits to your employees. We'll provide tailored programs that serve the needs of your staff.
Services include:

Lunch & Learn opportunities
Tailored promotional offers on loans and services
Dedicated assistance from nearby branches
On-site assistance for large employer groups
Health Savings Accounts for your insurance plans
Financial Education Programs
When you become a Workplace Banking Partner, Telhio can help you by providing education services based on the needs of your employees. Topics include:

Considering Home Ownership & Mortgage Education
Understanding Credit Reports & Scores
Banking Basics & Budgeting
Retirement
Identity Theft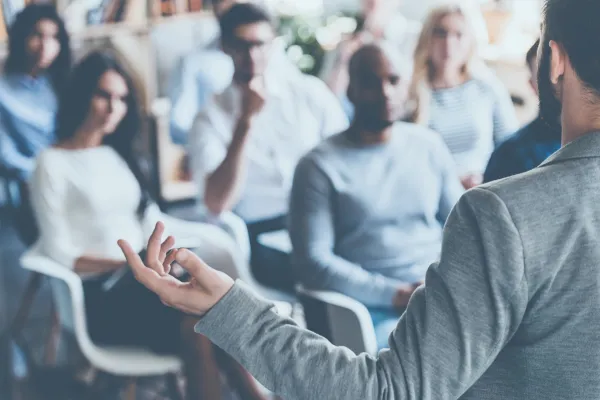 Your Workplace Banking Specialist
Teresa Russell
LUTCF, LPL Financial
[email protected]
Teresa attended The Ohio State University and has been in the financial services industry for more than 10 years. An alumni member of Delta Delta Delta Sorority, Teresa resides in Powell with her husband and two children. She is involved with several charitable organizations, including the American Red Cross and the Leukemia and Lymphoma Society. Teresa is a member of the National Association of Women Business Owners (NAWBO), as well as a member of the Business Advisory Council for Olentangy Local Schools.
Teresa has also been selected as a Board Member for the Women's Small Business Accelerator. Teresa brings an all-inclusive perspective to working with her clients, helping both individuals and businesses to build their financial future. Teresa can help Telhio Credit Union members develop options for their current and future financial needs. From developing, executing, and managing strategies to implementing plans, Teresa is here to help you pursue your financial goals.
Brian Sweeney
CFP®, LPL Financial
[email protected]
Brian has spent the last 7 years involved in the investment services and financial planning world. His initial experience came from Merrill Lynch, where he worked as an investment advisor on a team that managed over $250 million worth of assets. He later moved to Raymond James, where he spent time developing his investment management, retirement planning, and tax strategies skill set until settling in with LPL Financial. Brian's primary focus and experience is in investment management, as well as advanced financial planning and tax strategies when working with clients.

Brian earned his degree in Finance from Ohio University while playing football, and he also earned his MBA from California University. Brian also holds his certificate in financial planning from Bryant University as well as his CERTIFIED FINANCIAL PLANNER® designation, adding a more in-depth and trusted approach for clients. He is also finishing his CPA designation for in-depth tax planning strategies.
Brian and his team encompass all aspects of financial planning when working with clients. He prides himself on his team's ability to add value, establish comprehensive financial planning services and long term growth strategies, and implement and manage with a goal to simplify and maximize financial well-being.
Brian is originally from Pittsburgh, PA but currently resides in Grandview Heights, OH with his fiance, Ariana.
Karl McDowell
Business Banking Relationship Manager
[email protected]
With 20 years of banking experience, Karl has attained certifications in banking, finance, and credit analysis. Expertise ranges from Banker, Assistant Manager, Branch Manager, Business Banking Officer, to Business Development Manager. He volunteers and provides financial literacy classes for a number of non-profits and has won the Community Star Award for his efforts.

Adam Fausnaugh
AVP, Treasury Management
[email protected]
Adam Fausnaugh specializes in identifying business needs; from services for your business to solutions to help your employees, including:
payment solutions for your business
credit card solutions for your business expenses
accounts and special offers for your employees
solutions for your non-profit
Contact Adam today via email, or call 614-221-3233 ext 6234.

Richard Deborde
Business Banking Relationship Manager
[email protected]
Richard (Ricky) DeBorde was born and raised in Dayton, Ohio and graduated from Wright State University. Ricky has worked in the financial industry for nearly 11 years, and has extensive experience in Business Lending and Portfolio Management. Having spent the previous 3 years as a Small Business Credit Manager, Ricky is knowledgeable and passionate in helping your Small Businesses succeed. He is also active in the community coaching youth sports and serving as a volunteer for the Dayton Chapter of SCORE Association, a local non-profit that specializes in helping Small Businesses.
Elyse Sturtz
VP, Commercial Banking Services
[email protected]
Elyse has been on the Telhio team for more than six years. An Ohio University graduate, Elyse holds a wealth of experience in the area of practice solutions. Having had experience in branch banking, Elyse is equipped to help with all business lending and business banking needs.
Mitch Vocke
VP, Commercial Banking Services
[email protected]
Mitch has been with Telhio for eight years. Having managed several branches in Southwestern Ohio, Mitch comes with experience in both lending and business deposit needs. Mitch is a father to three daughters, and a retired marine.
Jerrid Williams
Business Banking Relationship Manager
[email protected]
Jerrid was born and raised in Columbus, Ohio and graduated from Miami University (OH). Jerrid has over 13 years of banking and financial services experience. This spans from specialty lending by way of practice finance to institutional investing back to business banking. Jerrid joined Telhio in March of 2020.

Jason Yochheim
VP Commercial Lender
[email protected]
Jason has over 20 years of experience in the Business Banking and Financial Services industry. He is a graduate of The Ohio State University with a degree in Human Ecology where he specialized in Family Financial Services. Jason enjoys working with local business owners to find short and long-term solutions to lending and other Business Banking needs.

Adam Fausnaugh
Workplace Banking Specialist
[email protected]
Adam will help create a program that works for your business and its employees.
Contact Adam today via email, or call 614-221-3233 ext 6234.